A THREE PART SERIES
PART 1
MORE IS ALWAYS BETTER
The cows have settled into their routine; the second and third pasture are done, but… in true Knot Farm form, we ran out of high-tension wire. Luckily, we bought more gates than we needed and used those to close in the last of the third pasture fence. Loopy, Panda, Millie, BB and Coco were let into the third pasture to graze on all the fresh grass.
Bull shopping had begun in earnest. There were several Belted Galloway bulls we had to choose from, all of which were HUGE! It was discussed early on we would try to find a Mini Bull and that would make it easier on the girls for throwing their first calves. We stumbled upon a wonderful farm in Ohio called Bruscotter Farm. We spoke to the matriarch Carrie, there were 3 young bulls to choose from, the choice was made to get the Mini bull from them. The plan to drive to Ohio to procure said bull was set into action.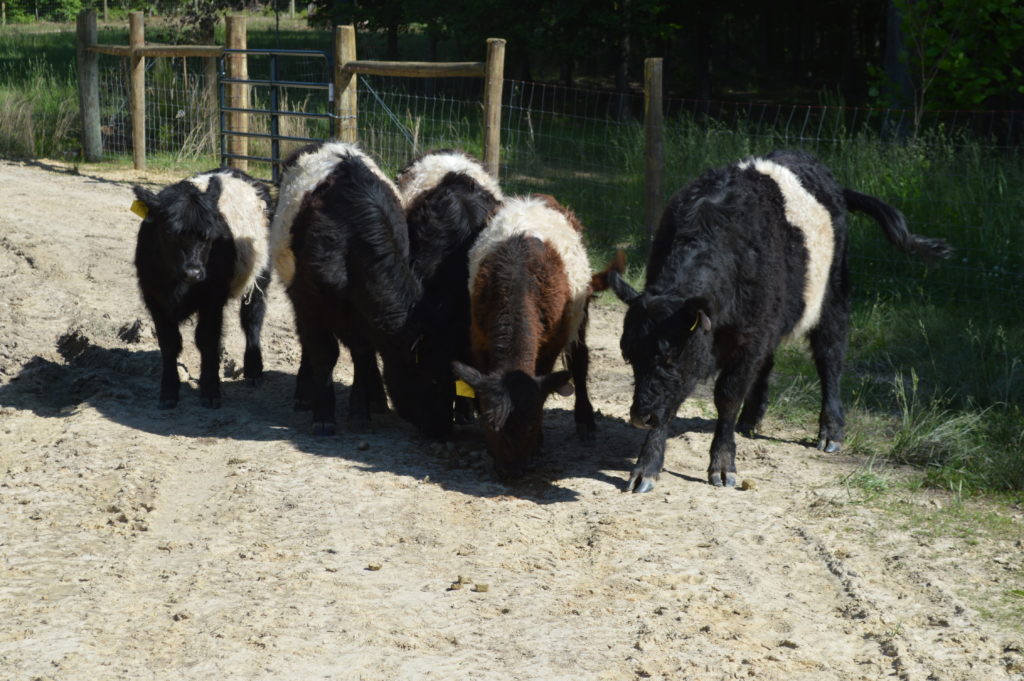 In the meantime, my business partner Jen was busy searching Craigslist for other random farm animals. Alpaca? Why not, because more is always better! Jen found a male alpaca at Kinder Farm Park they needed to find a home for since he had done his job and there were now three pregnant females. After meeting with the owners, a plan for Mr. Grey Sox (formerly known as Olaf) to be transported to Knot Farm was in action.
Now, I always fancied myself as a planner. So, I have a plan to go to Ohio and get a Bull and I have a plan to go to Severna Park, MD and pick up an Alpaca. Only one little, tiny, not such a big deal problem. I don't even own a Horse trailer!
SOMETIMES THE STARS ALIGN AND EVERYTHING IS EASY
Monday, the rat race is on, I'm running around town picking up this forgotten piece of lumber and that missing bolt when BAM! I saw the coolest little dune buggy all tricked out on the side of the road, AND a goose neck 2 horse trailer. I proceeded to pull off the road and call the number on the trailer, low and behold the fella selling it was home. We came to a deal and the trailer was now part of Knot Farm assets. I still have all the errands to take care of that were already on the list, what's one more? By the end of the day the trailer was bought, the tags were ordered, I bought a goose neck trailer hitch to be installed on Wednesday and I was on my way knowing I would have a way to transport livestock. So far so good. But wait, there's more. On my way home the hitch installer called and informed me he could install on Tuesday, WOW, that's even better. I called and confirmed with Bruscotter Farm and Kinder Farm Park, the Mini bull would be picked up Friday and the Alpaca would be picked up on Tuesday the following week.
MOVING IN THE RIGHT DIRECTION
Tuesday Night the hitch was installed, and the trailer was picked up. Appointments for animal procurement were confirmed and travel arrangements made.
Wednesday. The list of projects for Knot Farm employees was sent via fax, memo, email and text. Just kidding, they had vague instructions, water the cows and make fence repairs.
HITTING THE ROAD
Thursday, O'dark 30. The trip to Ohio begins. The sun is shining, birds are chirping, and I am ready to drive, the 533 miles, and estimated, 9 plus hours. The guys are working a Knot Farm all day with their very specific and detailed instructions.
The plan is to meet with Carrie and choose a Mini Bull from the 3 she has once I get there. The drive to Olympia Ohio went great. I made it in time to watch the cattle drive and picked up some pointers on how to herd cows. Of the three bulls we decided on the Dun mini Belted Galloway, we agreed he was most handsome of the lot, he had the best belt and conformation. DONE!
I didn't think putting a bull on a trailer would be as involved as it was, cows going this way and that way, wrong cow in chute, start over. After about an hour of pure chaos we got him loaded on the trailer for transport home in the AM. The bull with no name is in the trailer stall, and he is MAD! I tossed some hay in the stall, it was not well received, but the real orneriness came out when we attempted, yes attempted is the right word, to give him water, that 5 gallon bucked didn't stand a chance. He kicked and flung water everywhere. It was quite the show! The sun was setting now so headed into town to my hotel for some much-needed rest.
BEST LAID PLANS
Friday morning and it's time to get my newest heard mate home. I reached Bruscotter farm, hooked the trailer up, attempted to give the bull more water, another 5 gallon bucket bites the dust! I would be remiss if I did not share what a 5 gallon bites the dust means. I measure a rope and the bucket, so I can hang the water pail just off the floor and not be spilled from the road bumps. I fill said bucket with water, up over the rail it goes to hang on the bull side of the trailer stall. The Bull sees the bucket, drops his head and charges. The bucket compresses with the force of the impact, the water shoots up, and I am hanging over the top. I receive the better part of 5 gallons of water, the first charge. By the third charge the bull has relocated all 5 gallons of water, and the pail up out of his stall, back to me. The entire sequence lasted less than 4 seconds and I am startled, wet and ready to return home.
It's 8:30 am, locked and loaded, off I go, back to Maryland with an ornery bull in my trailer and a big smile on my face. The sunrise in Ohio is all they boast about, such a sight to see. The mountains in West Virginia are all they boast it to be as well, until you get a flat tire. No problem, I prepared for this, with my tire iron and tire ramp in hand I move to inspect the tire, it's flat alright. I back the trailer onto the ramp and proceed to change the tire in approximately 15 minutes, effectively avoiding the oncoming thunderstorm and deluge of rain. I'm on my way happily enjoying the mountain scenery certain the tire is good to go without further incident. I always try to plan for the unexpected, like 1 flat tire. I had a spare and everything else needed to facilitate such an event.
About halfway home I decided I should attempt, once again, to give him water, after approximately 18 hours in a trailer and two unsuccessful attempts to give him water I knew he had to be thirsty. Since there were 2 completely demolished plastic buckets in the stall, I had the idea to stop at a Tractor Supply and get a nice flexible grain bucket. The staff let me fill it up with water and slowly, quietly, gingerly I lowered the bucket down in front of him. WHAM-SMASH-SPLOOSH! I'm wearing the entire continents of the bucket, again and he is still thirsty. Time to get this guy home.
I'm happily cruising down 95 around Laurel Maryland, in the grand scheme of things I'm pretty darn close to home when, BAM, flat tire number 2 happens. Just to set the scene, it's 5:15 on a Friday eve, rush hour traffic all around and the smallest shoulder to pull off to safety anyone has ever seen, it's 95 degrees out and I have a very large, ornery, tired, hungry, thirsty live bull in tow. This is not good!
IT'S BETTER TO BE LUCKY THAN GOOD
I have AAA, for obvious reasons that was the first call I made. Now I didn't know this prior, but AAA will show up if your car or truck has a flat or if your RV has a flat but if you're carrying a live animal in a horse trailer you are on your own. That lady heard swear words she didn't even know existed. It took about an hour worth of calls to find someone, but luck was on was on my side. I found a great company called? I wish I could find that business card, after about 5 minutes the fella showed up in his truck and put out cones, we ARE on a major highway. On his way to rescue us, the bull and I, he simultaneously dispatched his crew to pick up two new tires, after about 20 minutes they showed up and changed two tires in no time at all. They put one tire on the trailer and the other on the spare tire mount. I am now $400.000 lighter and once again; I was on my way.
Finally, at dusk the bull was home. I decided to let him out in the second pasture so he could rest and get used to his new digs. He left Ohio as the bull with no name and exited the trailer in Nanjemoy Maryland with the name Grahame. I opened the back of the trailer expecting a bull to come out of the chute kicking and bucking, oh no, he meandered down the ramp and out to the grass looking back at me only for a moment and began to graze. What a crazy 36 hours right? But wait, there's more!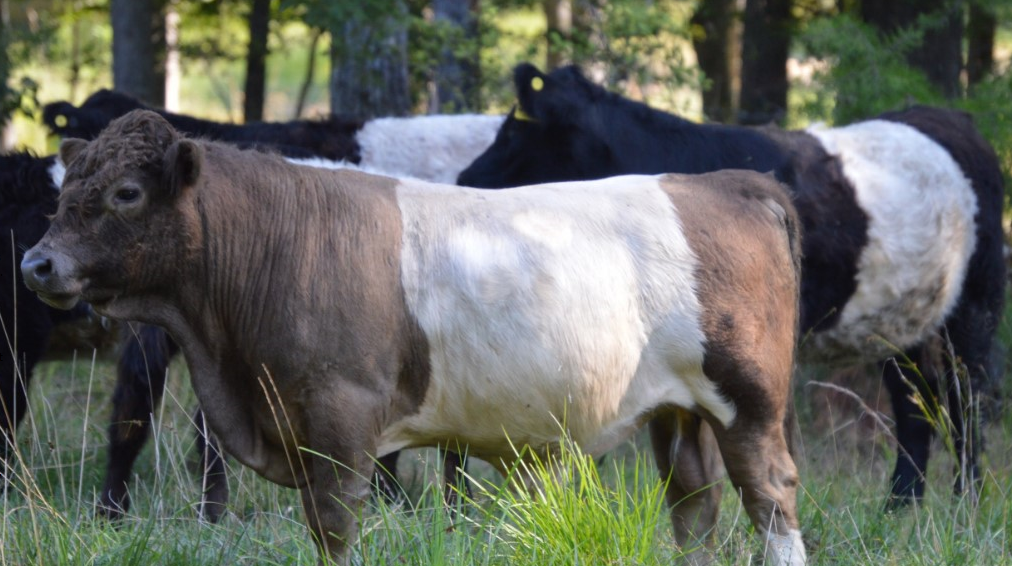 Stay tuned for the continuing saga "Waiting til' the cows come home" Part 2